How do I get a library card?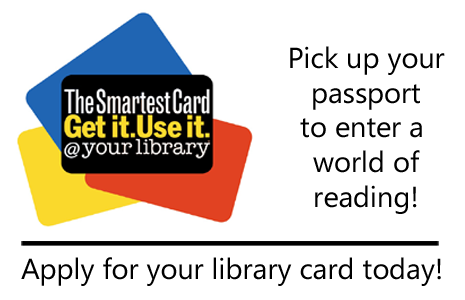 Cook Memorial Library cards are issued to residents of La Grande and residents of Union County not served by another public library. Residents of Elgin, North Powder, and Union must obtain a library card from their home library; a library card from any of those libraries may be used at Cook Memorial Library but with restrictions.
A Cook Memorial Library Card is your ticket to a world of resources! Check out our Welcome brochure for all the details. Note: Union County residents living outside the City of La Grande are not eligible for all services; a paid membership is required for full access.
To begin the registration process for a library card, complete the appropriate Library Card Application Form (see below), print it out. Once you have completed the form, come to the Library to complete the process. You will be asked to present a valid photo ID that has your current local address on it. If your ID does not have your local address, bring in a piece of mail (postdated within the last 30 days), checkbook, car registration, rent receipt, or utility bill showing both your name and current address.
Don't have proof of address? Get an Easy Access Card! An Easy Access Library card is available to La Grande residents who have picture ID but who cannot currently provide address verification. Patrons with this type of card may borrow most items (some Library of Things items are excluded) and have full access to all online databases and services. Easy Access cards also allow for the checkout of up to 2 physical items. Easy Access cards expire after one year.
Cook Memorial Library belongs to the Sage Library Consortium, which means your library card is accepted at all Sage libraries; there may be restrictions on what services you can access and what materials you may borrow, however.
Library Card Applications (Adobe Acrobat required)
Adult & Young Adult (16 years of age or older) - La Grande or Union County resident (as defined above)
Child (0 thru 15 years of age, parent/guardian ID & signature required) - La Grande or Union County resident
Non-Resident (full access membership, annual fee)
---