Welcome to the Library of Things
While a library is most commonly associated with the idea of books, magazines, and DVDs, it encompasses so much more than just those items. A library is a center of learning, a gathering place for community members, and strives to provide the tools and teach the skills people need to fully enrich their lives. To that end, we are happy to introduce you to Cook Memorial Library's Library of Things. Have a look around and then come in and checkout whatever it is you want.
A natural evolution of the library's existing lending model, this collection supplements the library's approach to meeting the needs of our community. It supports the "sharing economy" and today's sustainability efforts, as patrons sharing items means less waste. The collection also offers an opportunity to "try before you buy," to save money, and to test out something you might not have come across otherwise.
Items are only available for checkout by Cook Memorial Library card holders. Items must be picked up and returned to the Library in person. Replacement costs may apply if a Thing is returned broken or with missing parts.
Do you want to donate a gently used Thing and help our collection grow? Get in touch!
---
Check Out the Internet
Coolpad Surf Mobile Hotspots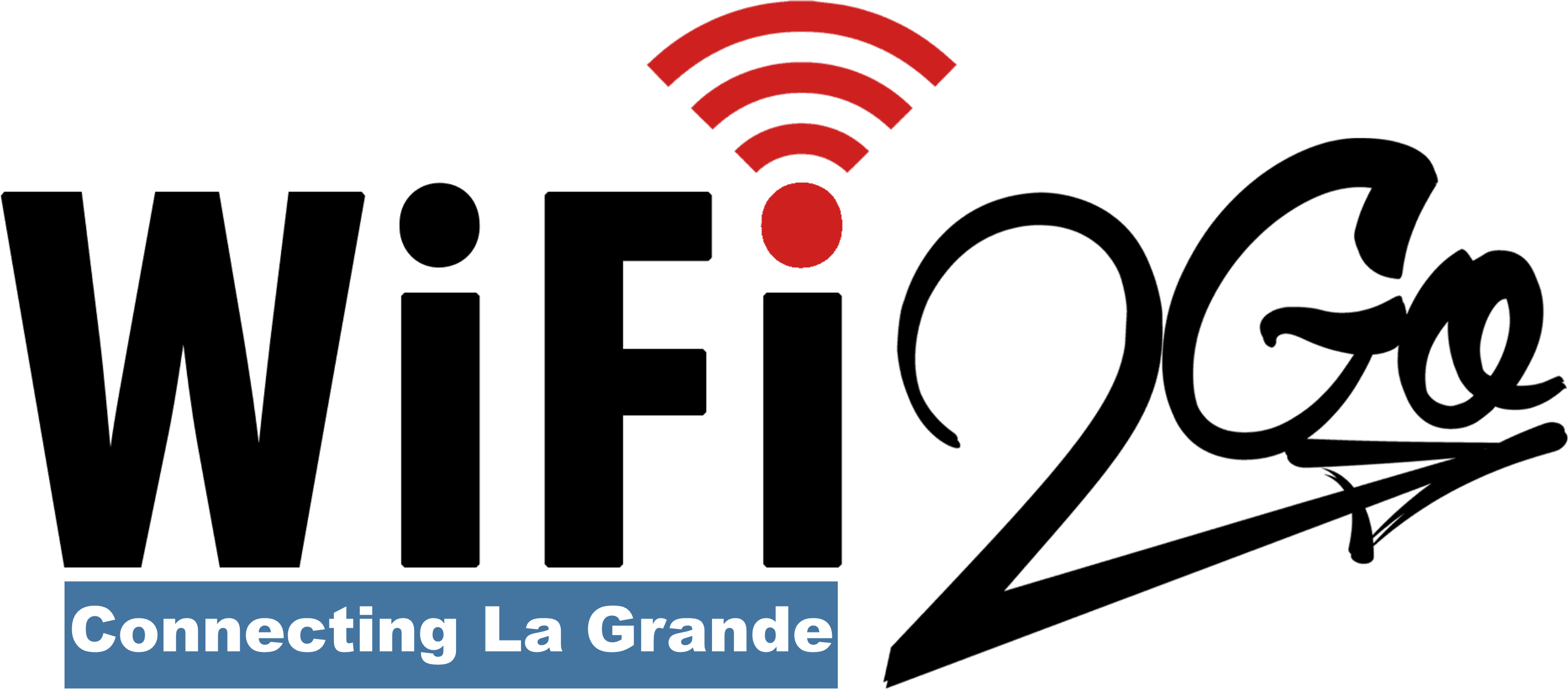 With your Cook Memorial Library card, you can now borrow a portable Internet Wi-Fi Hotspot. Our wireless lending program is a free service that allows you to take the Internet wherever you go!
Helping to bridge the gaps in access to technology, this service is ideal for those who are unable to access the Internet at home or remotely. A Wi-Fi Hotspot is a small device you can use to connect a wireless enabled device, such as a laptop, smartphone, or tablet, to the Internet. Hotspots are portable, so you can connect your device almost anywhere you are. At home, on a bus, in the park! This Hotspot device works in any area covered by the Sprint 3G or 4G LTE network.
Visit the Library's online catalog and reserve one today! Read, sign, and return our hotspot policy and agreement form.
---
Check Out A ChromeKit
HP Chromebook + Coolpad WiFi Hotspot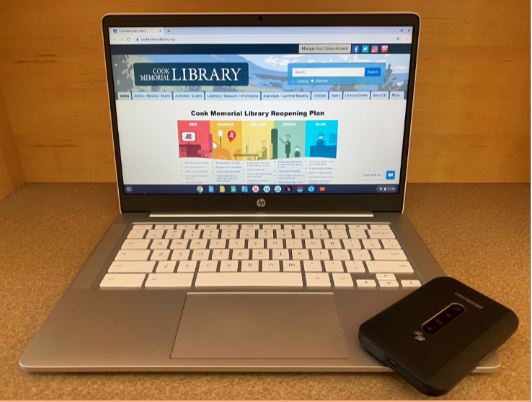 You can now checkout and take home a ChromeKit from Cook Memorial Library! Each ChromeKit contains a Chromebook laptop and a WiFi hotspot (also included are carrying cases and charging cords). You can use it to surf the web, read your email, write and edit documents like your resume, or use any of the pre-loaded library apps that allows you to watch movies, listen to music or audiobooks, or to read eBooks! The Chromebook is a new, faster type of laptop computer. It starts in seconds, and offers thousands of apps. It has built-in virus protection, and backs up your stuff in the cloud provided you have a Google account. Best of all, it's FREE*! To reserve your ChromeKit today, call the Library @ 541.962.1339 x0.
Learn more about Chromebooks in just a few minutes with these short videos from Google:
*You must be 18 years of age or older. You must be a La Grande resident. You must be a library cardholder in good standing for a minimum of 6 months. Chromebooks check out for 7 days and are not renewable. You must read and sign the ChromeKit Lending Policy & Borrower Agreement at time of checkout.
---
Check Out Virtual Reality
ReTrak Utopia 360 VR Headset
Experience a 360-degree world with the ReTrak Utopia 360 VR Headset. Stay entertained for hours thanks to hundreds of free apps, and feel comfortable the entire time with the memory foam head strap. Bluetooth technology lets you use the ReTrak Utopia 360 VR Controller (incl.), in combination with the VR headset, to play your favorite VR games.
Product Features: near-universal compatibility that fits virtually all phones; portable design, lightweight construction and memory foam provide comfortable on-the-go use; dual adjustable focus, control focal length and inter-pupillary distance; focal length can be adjusted for both eyes independently; lucidview lens system; anti-reflection lens reduces eye strain; includes Bluetooth controller 6-button remote with joystick.
---
Check Out A Telescope
Edmund Scientific Astroscan Telescope
The original Edmund Scientific Astroscan is an inexpensive, high-performance telescope that is easy-to-use, maintenance-free and completely portable. Its wide field of view, beautiful images and ease of use make it an excellent telescope for beginner and expert stargazers alike.
The heart of the Astroscan is its 1/8 wave, overcoated primary parabolic mirror. Where other telescopes use an inexpensive spherical mirror, the Astroscan's parabolic mirror has a deeper, more complex figure that focuses all incoming light rays to the same point. This results in crisp, clear images without any of distorting effects of spherical mirror aberration.
The Astroscan is a Newtonian Rich-Field reflector that provides a breathtaking 3 degrees (or six full moons) of field, literally making this instrument an open window to the universe. The wide field-of-view makes finding astronomical objects far easier than with other telescopes and allows for the best views of deep sky objects, or groups of objects, that won't even fit into the fields of other telescopes.
The Astroscan really excels when you turn it to deep sky objects like galaxies, nebulae and star clusters...the Pleiades are truly stunning! At higher magnifications, the Astroscan's images are crisp, clear and powerful.
The Astroscan has a unique design that won it the 1976 Industrial Design Award. Its creative design has eliminated the cumbersome and complicated mounts typical of most telescopes. Simply place its padded base on any firm, flat surface and you are immediately ready to observe. Its motions are positive and natural, with nothing to tighten or adjust. It's simple enough for a child to use the first time out.
The Library has 2 Astroscans available to check out. Each telescope kit comes in a carrying bag and includes a "Using Your Astroscan" instruction book as well as "The Edumund Sky Guide" and a "Star and Planet Locator."
How-to Video:
Useful Links:
---
Check Out A Microscope
AmScope 40X-1000X 360-Degree Rotating Monocular Head Compound Microscope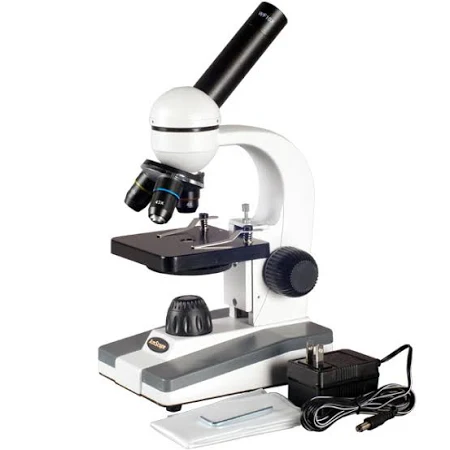 This is the ideal high power microscope for students to learn science. It comes with full optical glass elements, metal framework, 360 degree rotatable monocular head, coarse & fine focusing, and LED illumination. It offers multiple magnification settings, from 40X up to 1000X. The LED illumination system uses either an outlet (adapter included) or three AA batteries. This is an ideal microscopy package for home school or for students from elementary to high school. It is also an excellent instrument for adults and hobbyists. Kit also includes 100 pre-prepared slides with a variety of biological specimens for immediate viewing.
---
Check Out Energy Savings
Kill A Watt Monitor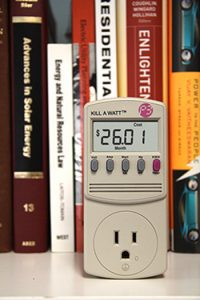 Energy Trust of Oregon and Cook Memorial Library are making a Kill A Watt® monitor available for check-out. A Kill A Watt monitor measures the energy usage of household appliances and electronics. By finding out how much energy your electric devices are using, and then making energy-saving adjustments, you can take charge of your electricity use and lower utility costs year-round. Reserve one today!
---